remixsquared's purpose is to promote collaboration between game music artists and composers. To that end, the site was designed from the ground up around the idea of song versioning. Every song that is uploaded to remixsquared is assigned a version number, regardless of whether it is a work in progress or a final release, and even if only the first version has been uploaded.
When a user uploads a song by clicking "Upload a completely new song," the song's "Version" identifier is set to 1, indicating it as the first version of the song. Contributors may then post reviews of the song, providing feedback to the artist and suggestions for improvement. After the artist considers those suggestions and improves the song, (s)he can then post another version by revising the song.
Revised songs do not overwrite the old version; instead, they simply replace the old version in the song charts and all song listings. Listeners and reviewers may compare the old version to the new using the "song history" chart on the song details page. Links to the old version from other websites will continue to point at the old version's details page, although the old version's details page will now contain text indicating that the song has been revised.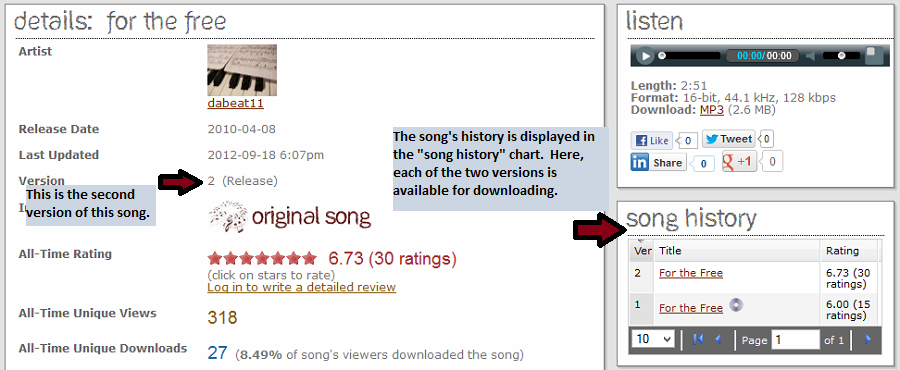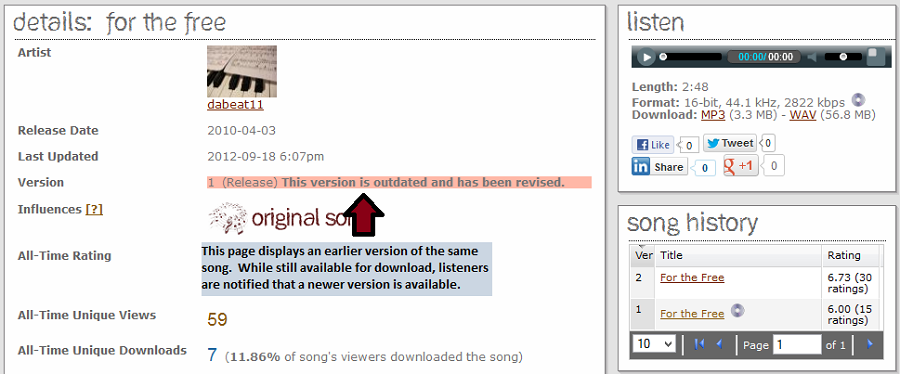 Sometimes, artists may have simply made a mistake in the description of an existing version, or they may want to correct its title. To update the information associated with an existing version of a song without uploading a new file, the edit song feature should be used. Editing a song does not create a new version and overwrites the old description with the new.

When you find a song you like, take a look at the song's history to see how it evolved to the way it is today. You might be surprised to learn how many of the highest-rated songs started out as simple MIDI piano melodies.