A toplist is a collection of songs and/or videos that a user determines to be his or her favorite works on remixsquared. Toplists are managed by individual users, with one toplist existing per user. Only the owner of a toplist may add or remove tracks on the list, or change their positions within the list.
Each toplist may consist of up to 10 entries. Toplists are ordered by position, with the lower numbers indicating that a user prefers a song more than songs with a higher position value. A song that occupies position #1 on a toplist is the user's favorite song on the site.
To manage your toplist, search for a song that you would like to add to the list, and scroll down to the "toplists" row in the song's details page. If the song is not yet listed on your toplist, click the "Add this song to your toplist" link (see Figure 1). When your list contains the maximum number of entries, adding a song will force the bottommost song to drop off the end of the list. If a song already exists on your toplist, the "Add your song" link will be replaced with an "Edit Toplist" link, which allows you to remove or shuffle the position of songs on your toplist.

Clicking on one of the links causes the "Edit Toplist" dialog to appear (see Figure 2). Highlight a row in the dialog and click the "Move Up" or "Move Down" buttons to change the order of the track in the toplist. To delete a song from the toplist entirely, click the "Remove" button. Toplists may also be edited on the user area "Manage songs" screen.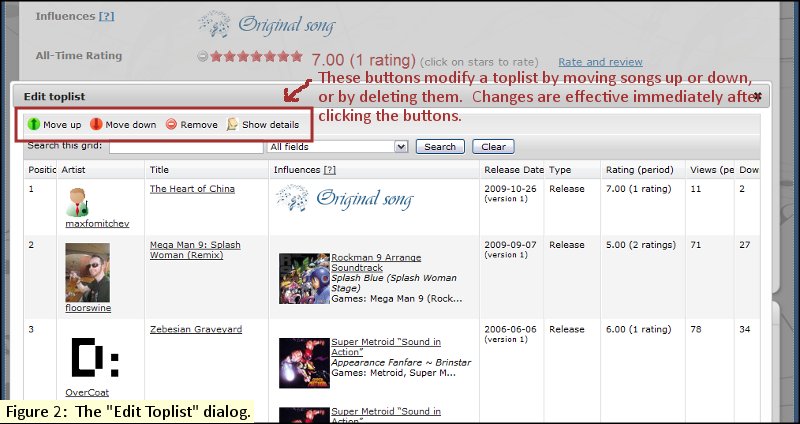 The number of toplists on which a particular song is listed is displayed on the song's details page (see Figure 1). The toplist of any particular user can be viewed by viewing the user's profile and scrolling down to the bottom of the page.